On Thursday 17th October, our digital leaders were among the first pupils to carry out a robotics workshop at Amazon's fulfillment centre in Dunstable. The workshop was part of the 'Amazon Future Engineer program.' It is devised with Fire Tech Camp and it is accredited by the British Science Association. The children enjoyed seeing how computer science works in the real world as well as the hands-on experience of using the Ozobot robots plus the robots around the centre. They were a credit to us!
Digital Leaders Assembly
Tuesday 5th February was Safer Internet Day. Our Digital Leaders ran an assembly on the importance of being safe and explained to the children how best to keep themselves safe when online. Thank you for a very informative and interesting presentation.
Digital Leaders

Our digital leaders are responsible children within our school who are trained to help us teach computing and use technology in lessons. These children make recommendations that truly matter and educate their peers as well as adults around them. Their role includes checking ICT resources, preparing resources for lessons, comparing different apps, websites and software that can be used for learning, suggest popular apps that can be used for learning, run assemblies on online safety, offer tech support in lessons, run clubs for younger children and present at staff meetings and INSET.
On Internet safety day, the children designed house superheroes to help us stay safe online. We announced the winners this week. The characters were carefully selected by the digital leaders: Goodall's Good who helps us to be kind, Mr Optetech who evaluates digital content, ClockWise who reminds us to use technology responsibly and Raptorious Reporter who encourages us to report.
Well done to Emily, Alaina, Pablo, Ella (Y6), Clarabel, Shaela, Lilly, Ruby-Ann, Amy (Y4), Oliver, Olivia, Liam (Y3) Dexter (Y2), Peter, Charlie, Brunella, Lucie, Maya and Kamal (Y1) who designed the chosen characters.
We are looking forward to these characters arriving on our Chrome books, laptop trolley and caring hands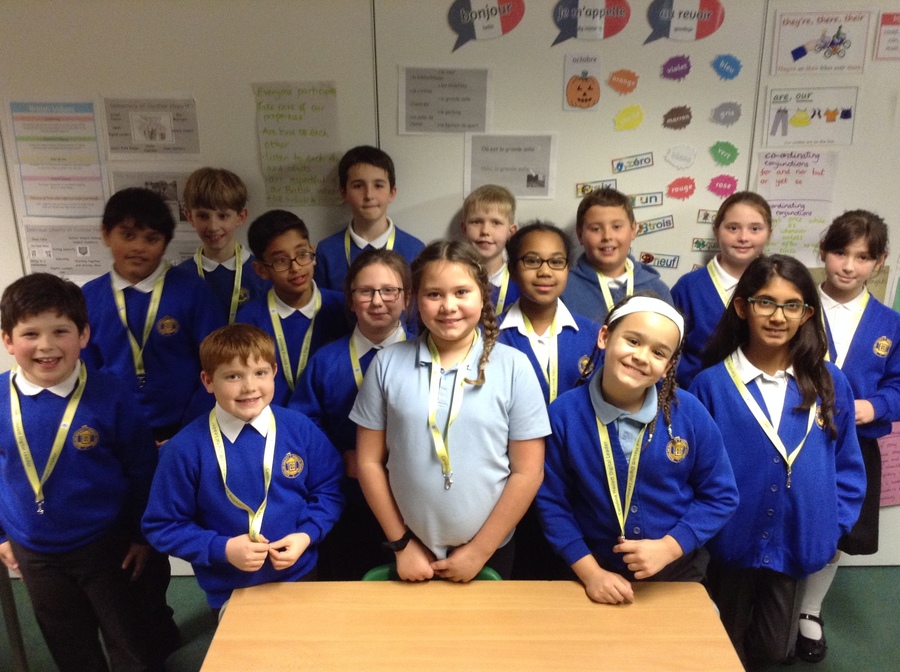 Jan 2018 - Mr Ridgeway from Milton Keynes parish council came to visit us in our after school club. We are making a fun and informative video about what to recycle.