Worktree
On Friday 31st January, our Year 6 children had a visit from Worktree. This organisation arranges for people from various sectors to talk to the children about their jobs. This year our visitors were a gas engineer, an artist, a midwife and an electrical engineer. The children always find it really interesting to hear about the different career options out there.
The Yr 6 children did a great job taking over the running of the school today (16.07.19). It gave the staff a chance to have a rest.
Student Achievements
Well done to Amanda who achieved an "Idea Award" from the Duke of York. The achievement is explained in her own words: "I got this Idea award from the Duke of York and Buckingham Palace. One day about 4 months ago, in digital leaders club, Mrs Hart told us to go on a website called Idea. There were loads of badges on bronze you had to complete. Each badge had different points, the harder, the more points. For the bronze award you had to get 250 points in total. I finished it at home and I am the first to get one out of all the digital leaders but some of them are close. I completed it on 20th May but it arrived on 1st July." Well done Amanda.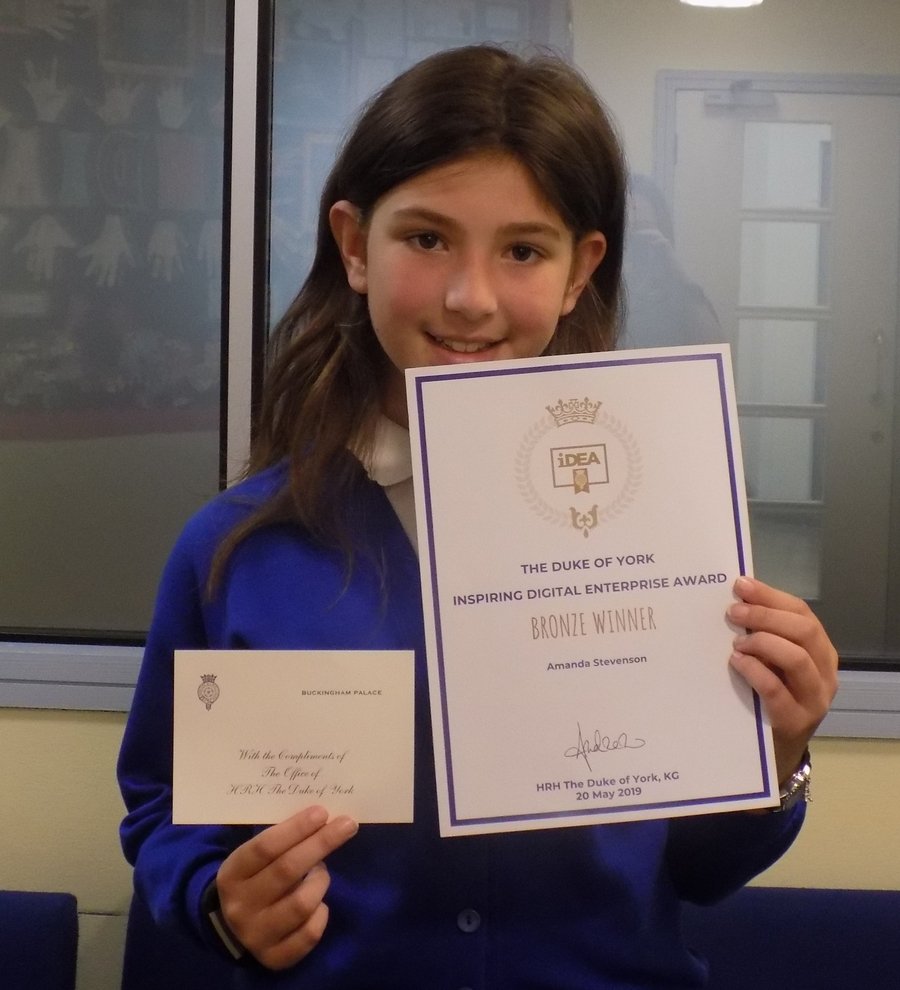 Pizza Making
The Year 6 children who did not go on the residential trip were involved in a great project this week. They designed pizzas and a menu; designed a pizza box following research on colours that work in advertisements; created jingles and considered how they would generate business through advertising.
They came up with some excellent business and creative ideas and the pizzas they produced looked delicious. Unfortunately they didn't make any for the staff so we'll have to put in a request next year! Thank you to Dominoes Pizza in Oxley Park who kindly donated the pizza boxes , we are very grateful.
Parsons Class MK Gallery Visit
As part of Children's Art Week, MK Gallery invited us to take part in their Cultural Education Partnership programme on Friday last week. Parsons class attended and had a great day, learning about the history of Milton Keynes branding and working on new design ideas. It was a great experience and one which they
thoroughly enjoyed.
On June 10th, Year 6 were visited by Worktree a charity who teach children about their future in the workplace. The children played a game of 'guess the profession' by asking closed questions to a mural artist, air-traffic controller, personal trainer and lawyer. The opportunity meant the children could get careers information directly from real workers and learn about a variety of professions.
The Yr 6 children had an exciting lesson which involved dissecting a sheep's heart.
This week the Yr 6 children honed their cutting and peeling skills
Year 6 Fundraising
Thank you to our Year 6 Fundraising group who set up a stall on Wednesday 20th March and Thursday 21st March to raise money for the British Heart Foundation. They worked really hard and their efforts were well rewarded. Thank you to all those who supported them; they managed to raise a fantastic £85.50 with more cakes to sell next week.
On Tuesday 20th March a group of Year 6 children took part in a creative writing experience at Stowe House . They were taken back in time to January 1845, the day before the royal visit from Queen Victoria to Stowe. They looked at objects collected by the Duke at that time. After tracing Queen Victoria's steps around the grounds they made suggestions about how her visit should go. They explored the portraiture of the time before making one of their own.The children followed up their visit by writing journals that will be displayed at Stowe House. It was a great experience and the children thoroughly enjoyed it.
Spring Term 17/18 Our Year 6 children have worked very hard building models to represent WW2. The standard of these models was outstanding and the pictures show a selection of those submitted.