Chinese New Year
On Friday 24th January, we celebrated The Year of the Rat. Foundation Stage and Year 1 joined together to learn about the traditions of Chinese New Year. Parents of children who celebrate the Chinese New Year/Lunar New Year were invited to come in and join the children in their activities. Thank you to all those that came along. Everyone had great fun and learnt a lot about what the Chinese and Lunar New Year means.
Children in Need
Thank you so much to everyone for their generosity last Friday for Children in Need. We had a great day with lots of activities in the classroom and
everyone's favourite, cakes at break! Foundation did an amazing job of making a Pudsey out of leaves, pine cones, conkers and recycled paper.
We managed to raise a grand total of £524.17 for this fantastic cause. Thank you.
Part of the Braiswick photographic company policy is that they donate 50p from every order to Cancer Research UK.
BIG THANK YOU TO ALL THE PARENTS WHO ORDERED THEIR CHILD'S SCHOOL PHOTOGRAPH.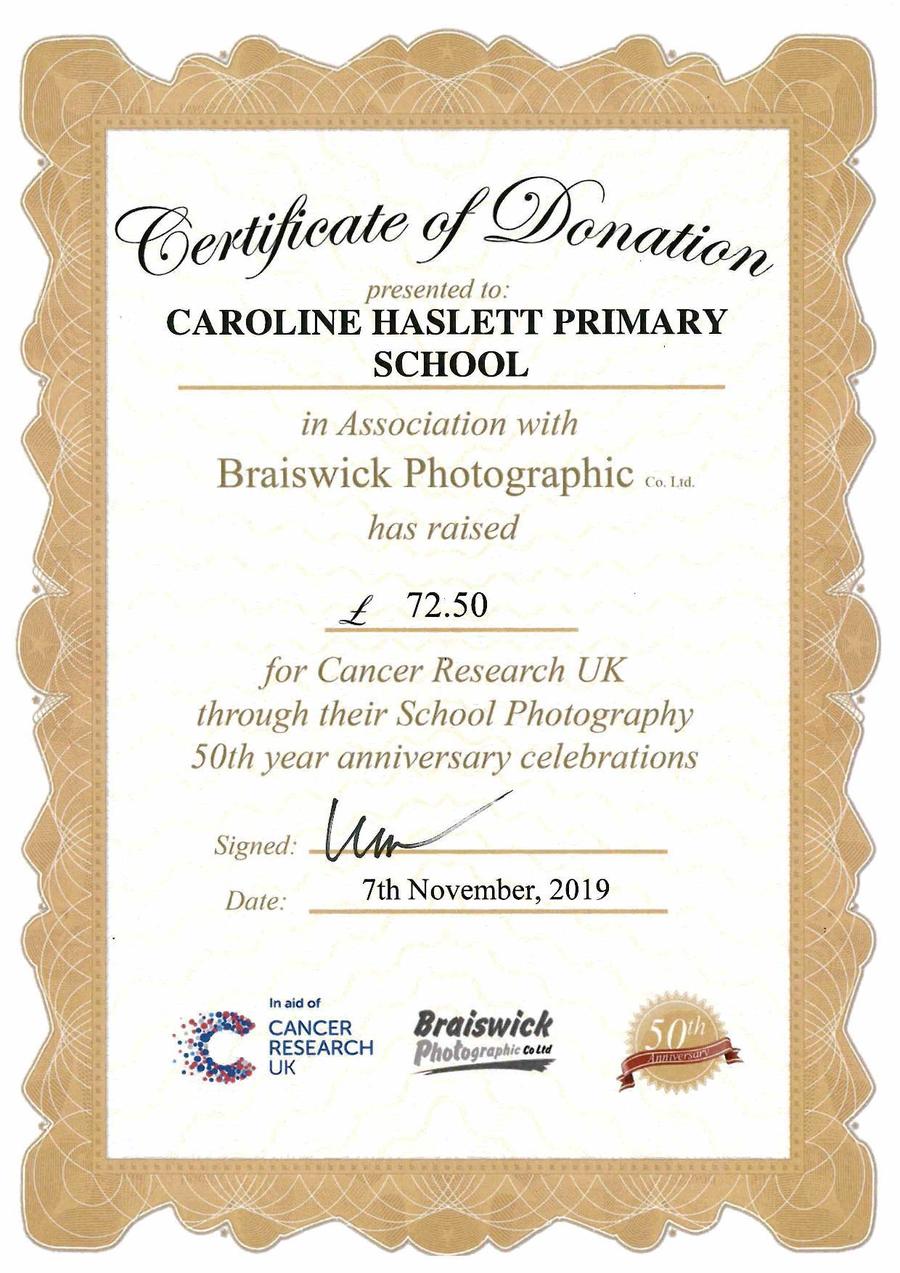 Foodbank Collections Oct 2019
Thank you to everyone who sent in donations for the Foodbank. We collected a fantastic amount and this will go a long way to helping those families in Milton Keynes that are in need of extra support from the community.
Year 6 Fundraiser for Willen Hospice
Thank you to Summer, Courtney, Keon, George and Reece who have worked really hard this week, raising money for the Willen Hospice. They put in a lot of time and effort, making many items themselves and showed true community spirit. Thank you to all those who supported them too. We will post a total in next week's newsletter
Mini-Moo Scooterthon 2019
Florence the Cow came to visit the children in assembly this week to tell everyone about the Mini-Moo Scooterthon 2019. This takes place on Sunday 19th May at Willen Lake North and is to raise money for Willen Hospice. There are goodies and certificates for everyone who enters and further details can be found at the following website:
www.willen-hospice.org.uk/scooterthon
Comic Relief Red Nose Day
Thank you to everyone who contributed to Red Nose Day last week. We have counted up all our donations and are pleased to say that we raised a grand total of £439.32.
Year 6 Fundraising
Thank you to our Year 6 Fundraising group who set up a stall on Wednesday 20th March and Thursday 21st March 2019 to raise money for the British Heart Foundation. They worked really hard and their efforts were well rewarded. Thank you to all those who supported them; they managed to raise a fantastic £85.50 with more cakes to sell next week.
Wear a Hat for Harry
On the 15th of February, we had a fund raising day for Harry. The staff and children paid £1 to wear hats which raised £370.05. Faraday Club also raised £178.20 by making and selling cakes after school. This means that a total of £548.25 will be sent to the charity on behalf of everyone. Thank you so much to everyone who donated.
Pottery Course
We have been running another pottery course this half term and once again, we have had some incredible creations. Thank you so much to Julia who has been a wonderful teacher. We look forward to seeing some more creations on our next course.
MK Dons Assembly
We had a visit from Jake and Fin from the MK Dons on Wednesday 13th February. They came in to do an assembly and talk to the children about the Gift of Football. Each child has been give a form for a complimentary ticket for one adult and one child. This is for the MK Dons v Crawley match on Saturday 2nd March. Thanks to both of them for their time and the tickets. Hopefully many of you will take the opportunity to go along and support them.
CHILDREN IN NEED DAY AT CAROLINE HASLETT
We had a fantastic day for Children in Need last week and raised a brilliant £542.90. Thank you to everyone who kindly donated. Here are what some children had to say:
"I thought this morning was good because it was enjoyable and really fun to know other people. DT was the best time this morning because I got to make moving Pudsies" - Manha
"I thought it was good but we didn't do any computing. But I enjoyed the DT" - Mason
"I thought this morning was excellent
because I had two happy children to look after and fun lessons to enjoy like DT, art and singing" - Lexi
"I enjoyed the morning because it had lots of fun and exciting activities and I learnt how to make a difference for children in need. I hope we raised a lot of money" - Maisy
"Today was all about children in need day and how it makes a difference to those who need help. I think we raised a lot of money because we handed in money for our clothes and to get cupcakes. It was really fun and there were lots of activities such as DT and singing. I hope we helped the children who are in need." - Eva
Remembrance Day Parade
Hauksbee Class participated in a Remembrance Day Parade last week Friday. It was an honour for them to be a part of remembering such an important piece of our history.
Diwali Celebrations
As mentioned in last week's newsletter, Foundation and Year 1 had a lovely day last week celebrating Diwali and learning about what it means. There were some beautiful outfits as well as some delicious food, kindly provided by children's family members. Thank you to all those who contributed and joined in to celebrate the day.
Caroline Haslett Assembly
On Tuesday we had a visit from John and David who are part of the Three Bridges Forum. The Forum is marking women's suffrage centenary year by planning and seeking support for a permanent memorial to Caroline Haslett. They gave a wonderful assembly and told the children all about who Caroline Haslett was and all the things she invented. For further information on Caroline Haslett, have a look at:
www.engineering-timelines.com/who/haslett_c/haslettCaroline.asp
Many thanks to everyone who kindly donated to the Food Bank. They collected the items on Wednesday and had enough to fill the van. This will make a huge difference to many families so thank you for your generosity.
Pottery Course
A group of children and their parents/grandparents signed up for a pottery course run by Community Learning MK .They have been making some amazing things and many have discovered a hidden talent. These are pictures of trolls, dragons and plaques that they have created. .
On Tuesday 10th April, Florence the Cow from Willen Hospice came to visit the children in assembly. There is a Mini-Moo Scooterthon at Willen Lake North on Sunday 20th May at 10.30am. There are lots of goodies and certificates and gives little ones the opportunity to raise money for this wonderful charity. Leaflets were sent home with the children but more information can be found at the following website:www.willen-hospice.org.uk/scootherthon
On Tuesday 28th November we had a visit from some of the residents of Putman House. They came along to watch the Year 1 performance of "A Miracle in Town". They enjoyed a cup of tea and mince pies and were full of praise for the children's performance. It was lovely to see them.
On Sunday 19th November, a group of our children entered the Junior Just Dance Waltz and Samba competition. They danced beautifully and were an absolute credit to Caroline Haslett. They put so much time and effort into their rehearsals which really paid off.
On Friday 10th November, Mayer class participated in the Remembrance Day Parade, which was attended by the Milton Keynes Mayor, veterans and members of the community. It was a great experience for the children and we were very pleased to be involved in commemorating this occasion.