Governors
Caroline Haslett School's Governing Board
The Governing Board works with the headteacher and the staff at the school to make sure that the school provides a good quality of education for all its pupils. Governors work in partnership with the headteacher to set the strategic direction of the school. Governors are not expected and should not make day to day decisions about how the school is run. That is the role of the Headteacher and senior staff.
Governors have three main roles:
to provide strategic direction for the school;
to act as a critical friend to the headteacher; and
to ensure accountability.
Our main role is to promote ongoing improvements in standards throughout the school. We help the Headteacher and staff to plan the school's long-term direction and evaluate progress. We also help to set the aims and values of the school and are responsible for some staff appointments, including the Headteacher.
You may get in touch with the Governing Board via the school office.
Call 01908 231101 or email schooloffice@carolinehaslett.milton-keynes.sch.uk
For our latest Governors' Newsletter, please click here
We have adopted The National Governance Association's code of conduct. You can read it here.
https://www.nga.org.uk/codeofconduct2017

We meet formally a minimum of three times a year, i.e. once a term. Meeting dates are usually set well in advance and meetings generally last between two and three hours. Governors are expected to be well prepared for these meetings and attendance is expected, with apologies only for good reasons.
 
In addition to full governing body meetings there are two committees:
Resources and Personnel (R&P)
Teaching and Learning; Pupils and Parents (TLPP)
Associate governors have voting rights on the committee on which they sit, but not on the full governing board meetings.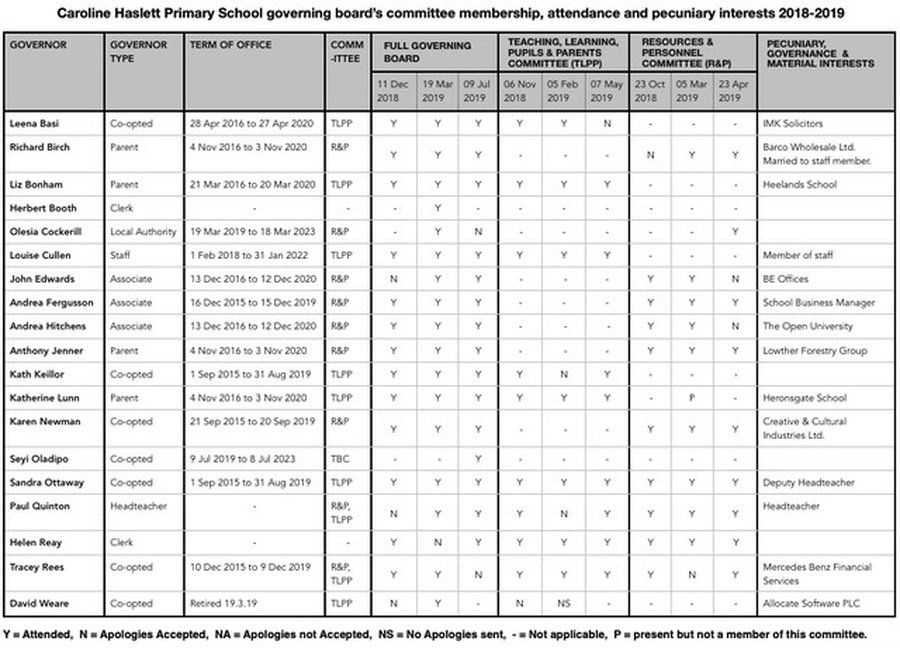 About the members of our Governing Board and their specialist roles
Leena Basi
Co-opted Governor; Specialist governor for Safeguarding and Safer Recruitment
Both my children attend Caroline Haslett School. I have always been impressed with the ethos of the school and wanted to learn more about the challenges affecting the school and help shape the strategic decisions to overcome them. I was also interested in the new curriculum and how it was being delivered.
I was pleased to join the Teaching & Learning, Pupils & Parents Committee in April 2016. My experience in the legal sector involves management and working with vulnerable children. This aligns itself well with my new role as Safeguarding & Safer Recruitment Governor.
Richard Birch
Parent Governor; Specialist governor for English and Stakeholder engagement
I was appointed as a Parent Governor in December 2016. I live locally to the school in have two daughters who attended Caroline Haslett but who have now gone onto secondary school. My wife works in the school and we have a lot of friends and neighbours who are involved in some way with the school. For me, it is really important to be able to help the school create a culture and an environment that recognises children from all walks of life and ensures they get a fair education and are best prepared for the next stage of education.
Liz Bonham
Parent Governor; Specialist governor for Early Years and Pupil Premium
I am a parent governor at Caroline Haslett School, having been appointed in March 2016. I have had three children who attended our school, but who have left to go on to secondary school.
I teach in a local Primary school and am keen to make education inspiring for children to ensure that every child reaches their full potential. I am on the Teaching and Learning, Pupils & Parents committee and I am also the Pupil Premium and Early Years governor. My background in education supports these roles and I am pleased that I can use my experiences and knowledge to contribute to the development of our school.
Louise Cullen
Staff Governor
I have been an Assistant Headteacher at Caroline Haslett since September 2015. I am responsible for maths teaching and learning across the school and I currently lead the Y2/Y3/Y4 team.
I was appointed staff governor in February 2018. I am passionate about providing the best opportunities and outcomes for the children and staff. As a member of teaching staff, I can offer input about the impact that decisions have upon the day to day running of our school.
John Edwards
Associate Governor; Specialist governor for Health & Safety
I was delighted to have been appointed as Associate Governor to the Resource & Personnel committee in December 2016. I have lived in Furzton for over 20 years and resident in Milton Keynes since 1976. My eldest daughter attended Caroline Haslett and has now gone up to Secondary school, and my youngest daughter currently attends the school. Both my wife & I have enjoyed the occasions over the years where we have been able to help the Friends of Caroline Haslett with various events for the school, especially as it has been instrumental in raising much needed additional funds for the school.
I bring with me a range of experience spanning over 25 years which includes, facilities & project management, Human resources & team management, as well as IT & telephony. I enjoy the sense of 'community' which the school promotes, and am very much looking forward to being of part of the Caroline Haslett team, by supporting them in the future development & continuous improvement of the school. I am a strong believer in 'giving something back' and am happy that this opportunity with the school will allow me to contribute to the exciting and positive times ahead as well as serving the local community.
Andrea Fergusson
Associate Governor; School Business Manager
My first connection to Caroline Haslett School was as a Parent in 2002 when my daughter joined in Year 4. Both of my children attended the school and they thoroughly enjoyed their time here giving them a great start to their education.
I began working at Caroline Haslett School in 2004 as a Lunchtime Supervisor and took on the role of School Secretary the following year. In 2012 I gained my School Business Manager qualification following 2 years of study and was appointed as Caroline Haslett Schools Business Manager in April of that year.
In my role I am responsible for managing the finances, personnel and premises of the school. As well as an Associate Governor I am an active member of our Friends Association. It's great to see our children and families thoroughly enjoy the organised events that help raise additional funds that go towards purchasing resources to further enrich the school experience for the children.
Andrea Hitchens
Associate Governor; Development Governor
My name is Andrea Hitchens and I was a Parent Governor for 8 years. In 2017, I was appointed as an associate governor and sit on the Resources and Personnel Committee.
As an individual, I have an interest in Education and currently work for The Open University. I find this role rewarding and am proud that I can help equip our young pupils with education and personal skills, so they can hopefully flourish in an ever changing world.
I am appreciative of my involvement in School Governance and I see it as one of the most important volunteering roles in education and serving our community, whilst still learning something new along the way.
I am the Development Governor for the board, and support governors with training, development and induction.
Anthony Jenner
Parent Governor; Specialist governor for Foundation Subjects
My name is Anthony Jenner and I am a Parent Governor, appointed in November 2016. I have lived in Shenley Brook since 2008 with my wife and two children. My have two children who attend the school.
My background is in Forestry, Land Management and Grounds Maintenance, with a very keen interest in sports both playing and spectating. I joined the Governing Board to actively participate in my local community and I am keen to help the children and school develop environmentally and within sport. I am the Sports Governor and sit on the Resources and Personnel Committee.
Kath Keillor
Co-opted Governor; Specialist governor for Assessment & Marking and for Science
My name is Kath Keillor. I have lived in Shenley Brook End since 1986 with my husband and three sons, one of whom started at Caroline Haslett in 1992, the year that the school opened. I was asked in 1991 by Shenley Brook End Parish Council if I was interested in being a member of the temporary Governing Body of the new 'Shenley Lodge' School. I have been a governor at Caroline Haslett Primary School ever since and was Chair of Governors from 2003 to 2010. Through all this time, I have been very happy and proud to be associated with our school. I sit on the Teaching and Learning and the Pupils and Parents committees and I am the governor for Science, French and Assessment.
Katherine Lunn
Parent Governor; Chair of Governors; Development Governor and Specialist governor for Special Educational Needs
I am a Parent Governor at Caroline Haslett School, having been appointed in December 2012. I have lived in Shenley Lodge since 2005, with my husband and two children. I have two sons who have both attended our school. I work part-time in another school.
My background is in Educational Publishing, Teaching English as an Additional Language, and Applied Linguistics. I became a school governor because I am passionate about giving children the best possible educational opportunities and experiences, and because I would like to contribute directly to the community in which I live.
I was elected chair in 2016, and sit on the Teaching & Learning, Pupils & Parents committee. I have a particular interest in our school's successful Speech, Communication and Language Needs Department, and for the education of children in our school who have Special Educational Needs.
Karen Newman
Co-opted Governor; Vice chair; Chair of the Resources and Personnel Committee; Specialist governor for English
I am delighted to join the governing body at Caroline Haslett School. I have lived in Shenley Brook End for 8 years and I have two children who have attended the school.
I have spent my career to date in Financial Management in the entertainment sector and more recently the charity sector, which allows me to prioritise my family life. I am passionate about my work and have been lucky to work for interesting fast moving organisations.
The main reason for becoming a governor was to use some of my commercial experience to benefit the school. I am looking forward to understanding some of the modern day challenges a school faces and helping overcome them to ensure our school remains successful.
Sandra Ottaway
Co-opted Governor; Deputy Headteacher
When I first started at Caroline Haslett School in January 1999, I was immediately struck by how polite, supportive and friendly our children are. Since that time, I have had the privilege of teaching many children over the years. A huge number of these have gone on to achieve great successes, which in part is due to the wonderful start they had here.
In 2008, I became the Deputy Head. Amongst other things, I am responsible for Assessment and Safeguarding. I work very closely with the Headteacher, Governors and teaching staff to ensure we provide an excellent education, so that each child can reach their potential. I am also fortunate enough to work very closely with parents and children to support the whole family in contributing to and feeling part of our school community.
Paul Quinton
Headteacher
Tracey Rees
Co-opted Governor; Vice Chair; Chair of the Teaching and Learning, Pupils and Parents Committee; Specialist governor for Maths
I joined as an associate governor in September 2015. I have two children who have attended the school. I am interested in understanding the new curriculum and how this is to be implemented and wish to support the school in this process as well as helping to ensure its continued good reputation. I enjoy taking a voluntary role either where my skills and experience can help or simply where I can help with offering my time. I am a qualified accountant and have previously been the treasurer for 3 years at Shenley Lodge Pre-School. I have enjoyed taking an active role in the Friends of Caroline Haslett since 2008, some of that time as vice-chair.
Olesia Cockerill
Local Authority Governor; Specialist governor for H.R.
I was happy to be appointed as a governor in February 2019. I specialise in Human Resources and Project Management and sit on the Resources and Personnel Committee.
The reason I wanted to become a governor is to use my skills to help to make every day a better experience for both school staff and the pupils and I am looking forward to continuing supporting Caroline Haslett School.
Seyi Oladipo
Co-opted Governor; Specialist governor for English, and for Computing and GDPR.