Sports
Sports News
It was a fairly quiet week for sports this week. A group of our Year 6 children participated in a dodgeball tournament at Shenley Brook End on Monday.10th February. We managed to field two teams made up of the following students: Nikil, Ruqayyah, Mason, Daisy, Srijan, Alisha, Maisy, Koby, Lillie-Mae, Riley, Molly, Lexi and Gautham. There were eight schools taking part so a large number of games to get through. We haven't been
notified of the final results yet, but the teams played really well and enjoyed the afternoon.
Sports News
On Monday 3rd February, we took part in an indoor athletics festival at Denbigh School. Our children ran extremely well and the individual results are below. We have not yet been sent the overall results of the day but we will publish these once we receive them.
Well done to all our athletes.
2 Lap Hurdle

2 Lap Sprint

4 Lap Sprint

6 Lap Sprint

Thalia 2nd

Jessica 2nd

Alisha R 4th

Maisy 4th

Lillie-Mae 1st

Lexi 5th

Clarabel 5th

Alisha M 4th

Daniel B 2nd

L-Jay 4th

Jay 4th

Aydin 5th

Zac 3rd

Amir 4th

Riley 3rd

Harry 5th

Relays

Jessica, Alisha R, Alisha M and Clarabel 6th

Maisy, Lillie-Mae, Thalia and Lexi 1st

Daniel, Zac, Amir and Riley 4th

Jay, Aydin, Harry and L-Jay 5th
Our Boys' Football team played a tournament on Wednesday this with the results as follows:
CHPS 0 - 0 St. Monica's
CHPS 0 - 1 Emerson Valley
CHPS 0 - 4 St. Bernadette's
Well done on a good effort.
On Monday next week we will be participating in a dodgeball tournament at Shenley School. Good luck to the team and we will publish results in next week's newsletter.
Sports News
A group of Year 3 and 4 children participated in the Racket Pack Smash Festival at Denbigh School on Monday 13th January this week. It was a badminton programme for all levels of ability, including complete beginners. The festival taught children some basic badminton skills through the use of games. The festival ended with a tournament and we came 3rd, which was a great
achievement. Well done to all the children who participated.
Our Football Team played in a tournament at Woughton-on-the-Green on Wednesday this week. Unfortunately they didn't win a match this week and the scores were as follows:
CHPS 0 - 1 Bow Brickhill
CHPS 0 - 2 Brooklands Farm
Mr Lew runs a football squad training session on Wednesday mornings before school but unfortunately less than 10 children came to training this week. Miss Hilton needs more commitment from the team; the lack of training and practise as a team is being reflected in the results. Mr Lew is giving up his time to work with the squad and we do not want to be seen to be wasting his time. Being part of a team takes commitment and hard work so please try and get to training next week boys.
Please note that the football match that was scheduled for Wednesday 29th January has been moved to Wednesday 5th February. A letter will go out on Monday confirming this.
Our Football team played Langland Community School on Monday 2nd December. It was the first home game in quite a while so thank you to all those who came along to support them. Unfortunately we were beaten 12 - 0 . We have two further games this year so hopefully we will have the opportunity to score some goals.
Our Boys Football Teams were in action this week. Week commencing Monday 25th November. The first event was a tournament at Woughton on the Green. The results were as follows:
CHPS 0 - 1 The Premier Academy
CHPS 1 - 2 Brooklands Farm
CHPS 0 - 3 Willen Primary
The boys need to ensure they are attending Wednesday morning training so they can practise more as a team.
The team played Falconhurst School yesterday. They tried hard but unfortunately were defeated 4 - 0. Well done for a good effort.
The next match is a home game against Langland Community School. This is due to be played on Monday 2nd December. Any children and parents who would like to come along, the team would be grateful for your support.
Well done to our cross country team who participated in an event at the MK Bowl on Saturday 19th October. They ran extremely well and we came 6th overall for large schools, a fantastic achievement. The star of the day was Maisy, who finished 7th out of over 100 girls in the Junior category. Alisha M finished 26th in Juniors and Alisha R finished 32nd in Seniors. Also fantastic results. Well done to all our other athletes who did us proud too. All your training and hard work has paid off.
On Wednesday 16th October, a selection of year 3 and 4 children participated in a cross country event at Bushfields School. They performed brilliantly, finishing in the top 10 in every race. Well done to Megan who finished 2nd in her race; a fantastic achievement. Our Tag Rugby team were in action again yesterday and their final tournament of the half term will be Thursday next week. We will let you know of any further fixtures coming up.
Caroline Haslett School were invited to participate in the MKSSP Challenge Day on Friday 27th September at MK Springers, Kiln Farm. During the event, a group of children from Years 4 to 6 were given the opportunity to take part in various activity stations which incorporated their core PE skills. Names were drawn out of a hat and David, Lily, Abdulah and Thabang were chosen to participate. They really enjoyed the day; it was great fun as the pictures alongside show. Today is the turn of Years 1 to 3 and we will publish details of that next week.
The Tag Rugby Team played in another tournament on Thursday 26th September. As before, these are friendly matches against the same schools to prepare teams for later competitive tournaments. The children are playing some great rugby, keep up the good work.
Next week gets even busier with sport. Training for cross country begins in preparation for the event on October 19th at the MK Bowl.
Football squad training also begins next week. Russell Lew will be holding training sessions for Year 5 and 6 boys on Wednesdays. Sessions will begin at 8.00am.
We will update you with fixture results as and when they come through.
The Tag Rugby League has now started and the children have been training hard this week. They played in a friendly tournament on Thursday 19th September with matches against Olney, Emerson Valley, Southwood, Orchards Academy and Long Meadow. Koby won two Player of the Match awards and Ruqayyah, Daisy, Riley and Tyler won one each. These tournaments are in preparation for later competitions and the children have made a great start so far.
We have some cross country and challenge events coming up over the next few weeks so we will keep you up to date in the forthcoming newsletters.
On Saturday 6th July, a team of our children participated in the Stantonbury Athletics Final. The team were fantastic and once again, Caroline Haslett came away with the trophy for overall winner of Large Schools for the 3rd year in a row; an outstanding achievement. The children's individual results are listed below. Well done to Miss Hilton and the team for another brilliant year.
Student

Position

Time

Event

Jonathan

3rd

28.8s

200m

Maxwell

1st

149.8

800m

Maliha

2nd

24.3s

150m

Junior Boys Relay

5th

Isobel

2nd

3.9m

Long Jump

Ruqayyah

4th

3.55m

Long Jump

Daniel W

Joint 3rd

3.81m

Long Jump

Missed out on medal after countback

Owen

5th

3.8m

Long Jump

Sophie S

3rd

3.2m

Long Jump

Anya

6th

3.05

Long Jump

Amir

2nd

3.52

Long Jump

Shayo

Contesting joint 2nd

Long Jump

Daniel L

6th

5.4m

Long Jump

Zac

11th

4.9m

Triple Jump

Tyler

16th

27m

Vortex

Hamsika

1st

32m

Vortex
Sports Day
Thursday 4th July was our annual Sports Day event. The weather was finally kind to us and everyone thoroughly enjoyed it. Thanks to those who were able to come along and support the children. The winning house for KS1 this year was Hawking with a total of 2243 points. KS2 winners were Batey with 5841. Well done everyone!
Thank you so much to Miss Hilton for organising the event. As usual, everything ran smoothly which was thanks to all the planning and hard work.
On Thursday 4th July, Mr Quinton took a group of children to Aylesbury to participate in the Cycling County School Games Final at the Stoke Mandeville Stadium. The team were brilliant, finishing 4th overall in Buckinghamshire. Owen won 2 gold medals and Maxwell and Jonathan won a silver each. Molly, Evie, Phoebe and Izzy also helped get the team to the final. Well done everyone on a great achievement.
Once again, our children performed brilliantly at Stantonbury Athletics. They trained really hard and thoroughly deserved their fantastic results. The results of their heats and overall places are listed below. The children who finished in the top 16 overall will be competing in the finals on Saturday 6th July. We will publish those results in next week's newsletter. Good luck to all those participating.
On Tuesday 2nd July our Rounders team were in action at Shenley School. They came second and fourth in the tournament which means they have made it through to the MK finals. These will be held next week and further details will be sent out as soon as we have them. Well done team.
On the last day of the term Friday 24th May our Girls' Football team played in a tournament at Woughton on the Green and finished 3rd in their group; a great result. The girls' excellent performance over the season means the team finished second in the league which is an excellent achievement. On Thursday 6th June they took part in the league finals at Sir Herbert Leon School. They finished in 6th place which makes them the 6th best football team in Milton Keynes; well done girls.
On Thursday 23rd May the KS1 athletics festival took place. This was a friendly event for the children to participate in. They had great fun and also showed a lot of potential for future competitive events. We look forward to seeing them on future athletics teams.
On Tuesday 21st May it was the cycling event. We finished a fantastic 2nd overall, meaning the team qualifies for the County Finals. The individual results as follows:
| | |
| --- | --- |
| Owen | Boys' Final - 1st place |
| Maxwell | Boys' Final – 2nd place |
| Phoebe | Girls' Final – 3rd place |
| Evie | Girls' Semi-final – 5th place |
| Isobel | Girls Semi-final - 7th place |
| Jonathan | Boys' Semi-final – 5th place |
We have had an extremely busy sporting week. On Monday 20th we participated in a swimming gala at Stantonbury Leisure Centre. The children were fantastic and their achievements are listed below. Once we have the final standings, we will let you know.
Breaststroke

Backstroke

Freestyle

Maxwell 2nd

Avi 3rd

Dillon 5th

Jonathan 3rd

Maisy 6th

Erin 3rd

Evie 3rd

Lili 3rd

Maxwell 2nd

Avi 2nd

Dillon 3rd

Jonathan 5th

Maisy 4th

Erin 3rd

Evie 4th

Lili 1st

Maxwell 2nd

Avi 3rd

Dillon 5th

Jonathan 4th

Maisy 5th

Erin 3rd

Evie 2nd

Lili 1st
On Tuesday 29th April, we entered a team into the Tug of War competition at Sir Herbert Leon Academy. They performed brilliantly, winning their heats against Long Meadow, Giles Brook and Tickford Park. They lost against Southwood, meaning they finished second in their group. Second position meant they went through to the championships. Again, they did exceptionally well, beating Great Linford, Southwood, Priory Rise, Orchard Academy and Stanton School. They only lost to Two Mile Ash which meant they finished 2nd overall in the Championships. It was a fantastic performance so well done to all of them.
The Girls' Football Team were in action on Wednesday 1st May and, yet again, played extremely well. They beat Bushfields A team 2-1 and lost 1-0 to St. Monica's. Well done girls and good luck for next week's matches.
Our Year 5 Girls' Football Team played in a World Cup Tournament on Wednesday 24th April They were "Netherlands" and played a series of matches against other countries. The girls came 2nd in their group so played the winners on the opposing side of the draw. They won that match on penalties, earning a place in the finals. They won that match 2-1 and came home with the trophy. Tournament goals were scored by Daisy (1) and Ruqayyah (2). Well done girls, a fantastic achievement!
The Year 5/6 Girls' Team were in action too, playing a tournament at Bushfields School on the same day They beat Southwood School 4-1, Evie scoring 3 goals and Summer scoring 1. In their second match, they drew 0-0 with Two Mile Ash. Well done girls; you're all doing us proud.
Our tag rugby team were in action on Thursday 4th April, playing in a tournament at MK Rugby Club.They played well, coming 4th in the Shield and 5th in the Cup. Good effort everyone.
Well done to our Girls' Football Team who played two matches on Wednesday 3rd April. They played exceptionally well, beating New Bradwell School 4-1 and Bushfield School 2-0. In the first match, goals were scored by Isobel (2), Isabelle (1) and Maisy (1). In the second match Isobel and Maisy scored 1 each. It was a great perfomance; Miss Hilton was extremely proud. Keep it up girls.
Our netball team played in a tournament at Radcliffe School on Thursday 28th March. They played absolutely brilliantly, winning two out of their three matches. Unfortunately they only missed out on the finals due to goal difference.Well done; an amazing achievement for your first ever netball tournament. We're really proud of you.
It has been a very busy sporting week. Our Football Team played a home game against The Premier Academy on Monday 18th March. They played extremely well, winning 2—0.
The Tag Rugby team were in action again too on Wednesday 20th March. Last minute rule changes caused some confusion but the team still played well, winning one and losing two. We are still waiting for confirmation of where we are on the table.
The Dodgeball team took part in a tournament at MK College on Thursday 21st March. They played extremely well and CHPS are in the top 12 schools in Milton Keynes. We are waiting for the final results table.
Our Tag Rugby team are going from strength to strength. They played a further two matches on Wednesday 13th March. They beat Willen Primary School 8—3 and then beat Emerson Valley School 11—0. A fantastic achievement which puts them at the top of the table. Well done and we look forward to the next matches.
We have had an excellent sporting week this week.
Our Dodgeball team had a fantastic tournament on Monday 25th February and have made it through to the finals. We will keep you updated with how they get on.
Our Tag Rugby team (picture below) were not to be outdone, playing great rugby in their tournament on Wednesday 27th February. They beat Middleton Primary 9—6 and beat Rickley Park 14—5. A fantastic achievement.
Well done to all of you; you're doing us proud and keep it up.
On Monday 11th February this week we welcomed Moorland Primary Girls' Football team. It was a great match, ending with a 7—1 win for Caroline Haslett. Well done to all the girls. We begin the first week back after the half term with dodgeball and tag rugby tournaments so we will have a very busy sporting week to report on.
On Wednesday 6th February , we sent a team of athletes to Stowe School to compete in the Bucks Schools County Cross Country Championships. They performed brilliantly with Maxwell, Jack and Adam coming 5th, 18th and 35th respectively. Emily and Farun finished 44th and 50th.Congratulations to all of them, they did us proud.
On Monday 4th February our Boys' Football Team welcomed Moorland Primary School for a home game. The team played really well, leading 11-0 at half time. They mixed the teams up for the second half, turning it more into a friendly. Thanks to those who am along to support. We look forward to welcoming the Moorland Girls' Team on Monday 11th February.
On Monday 28th January, we entered a team in the Indoor Athletics Festival at Shenley Brook End School. They performed brilliantly and are currently joint 2nd on the table. Only the top two schools go through to the finals so we are hoping to be one of those two. We are still awaiting some results from field events so hopefully those results will work in our favour.
A breakdown of the results is listed below:
2 lap hurdles: Amanda 2nd
Thalia 2nd
David 3rd
Harrison 3rd
2 lap sprint: Isobel 1st
Jessica 5th
Russell 1st
Jonathan 2nd
4 lap sprint: Zoe 2nd
Rocio 5th
Rohan 5th
Dante 2nd
6 lap sprint: Farun 5th
Maisy 2nd
Maxwell 2nd
Riley 5th
Relay One (Girls): 3rd
Relay Two (Girls): 2nd
Relay One (Boys): 3rd
Relay Two (Boys): 1st
A fantastic achievement, well done to everyone who participated. Fingers crossed for one of the top spots.
Our Boys' Football team played in two matches on Wednesday 23rd January. They drew 0-0 with Chestnuts and lost 2-0 to Giles Brook. There was a definite improvement on last week but the team still need to work on creating opportunities to shoot. Keep working boys, the training is paying off.
The EFL Kids Cup first round matches took place last Friday 11th January at the Dome at Woughton on the Green. The team played 5 matches, winning one but losing the other four. They beat Drayton park 4—0 which was a great result, with Keon scoring 3 out of the 4 goals. A fantastic performance. It was a small pitch and the team need to work on controlling passes and creating opportunities to shoot. Good effort and keep up the training
Our Football Team played against Whitehouse School on Wednesday 12th December. The boys played a great match and came away with a 3-1 win. Playing on grass must be our lucky charm! Well done boys; it was a great way to end the year.
Our Football Team played against Loughton School on Wednesday 5th December. It was a great match, ending in a 0-0 draw. Miss Hilton was really proud of the way the team played, well done boys. The first win of the season is getting closer.
Horse Riding from Autumn Term 18/19
Miss Hilton and our Cross Country team participated at Stantonbury on Saturday 20th October . They put in amazing performances, coming 5th overall in the Large Schools Category. The results are below and it is worth mentioning that there were between 130 and 150 children in each race. A big thank you to Avi who stepped in on the morning of the event to run, despite having had no training. A special mention must go to Maxwell who came 2nd; an absolutely fantastic achievement. Well done to all the children who took part (and to Miss Hilton) for all your hard work and commitment to training.
Horse riding club Friday 19th October.
On Thursday 11th October, CHPS Boys football team had a match against Bushfields School, CHPS won 6-2. Well Done!
Autumn term children taking part in horse riding club.
On Friday 5th October 2018 , miss Hilton took some more of our pupils to take part in the MK challenge day at MK Springers on Kiln Farm.
Well done to our football team who won their first match of the season on Thursday 4th October against Long Meadow School. The result was 5-2 with goals scored by Maxwell, Rohan, Josef and Keon. A brilliant result boys!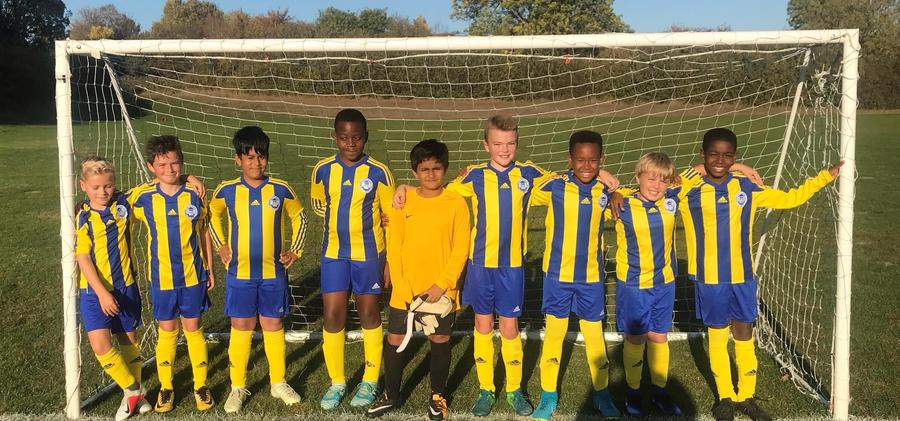 On Friday 28th September 2018 , some of our pupils took part in the MK challenge day at MK Springers on Kiln Farm
TUG OF WAR
On Tuesday the 10th of July, the Year 5 and 6 Tug of War team competed at Sir Herbert Leon Academy. We had a great day and placed 5th overall in the competition. The team is pictured below. Well done to everyone for a fantastic effort.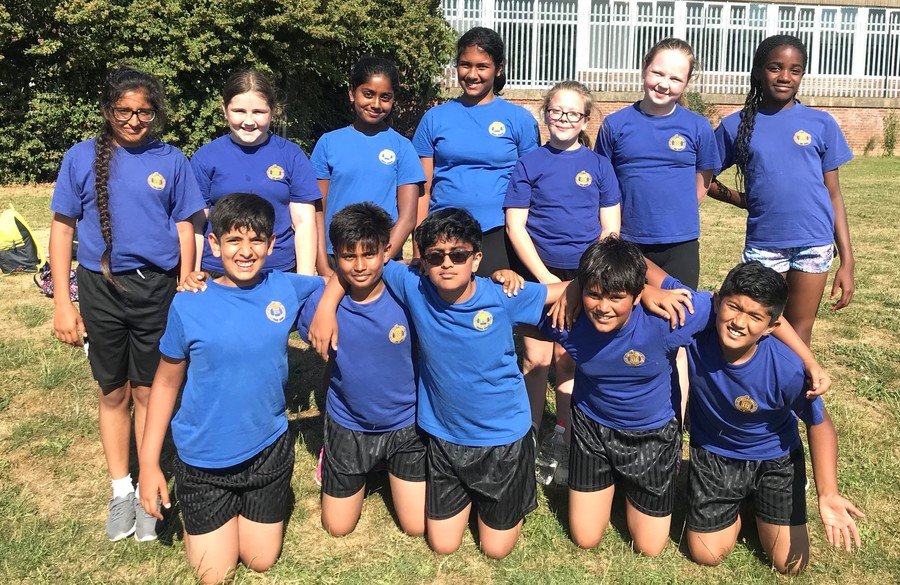 STANTONBURY ATHLETICS
Huge congratulations to our Stantonbury Athletics 2018 team. Caroline Haslett were the winners of the Large Schools Group. Miss Hilton is pictured with the trophy. We also came away with individual medals: Isobel came first in the Long Jump; Shruti came second in the Vortex and Maxwell came third in the 800m. It was a fantastic achievement from the whole team. Well done everyone for your hard work and commitment.
Please see photos below of the children who are taking part in horse riding club during the summer term
On Friday 16th March our Tag Rugby team entered a tournament. They won matches against Rickley Park, st Monicas and Abbeys Primary Schools. They lost 1 Try against Giles Brook and 2 Trys against Oxley Park and Summerfield Primary Schools. The team came 7th overall out of 14 teams.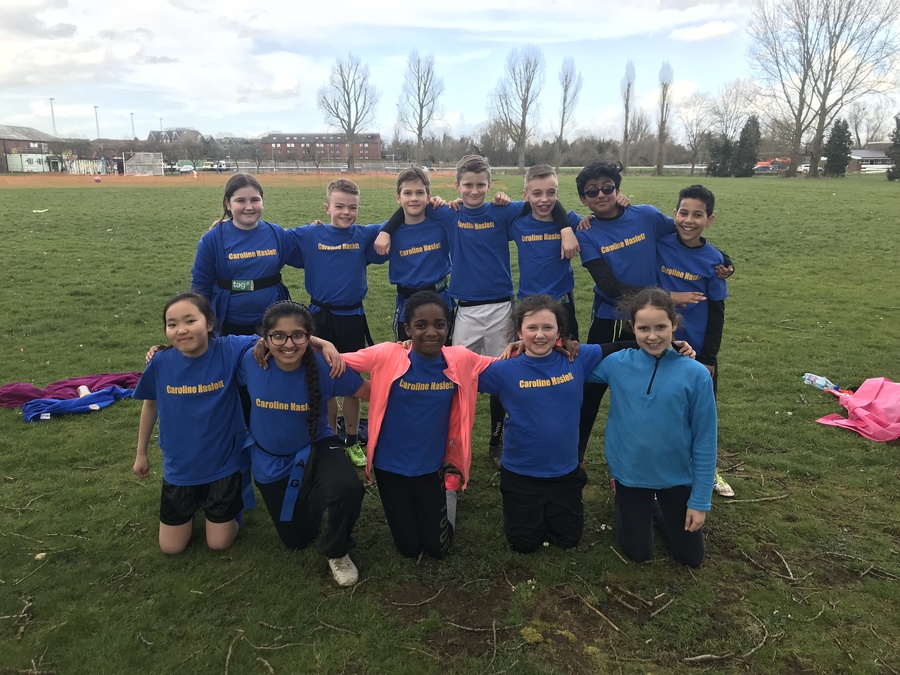 On Thursday 15th March Caroline Haslett Dodgeball Team, came 3rd place in all MK. Won games against Oxley Park, Ceaders, Tickford park in the pools and lost out in the semis by Bradwell village. We played and won against oxley Park to come 3rd.
On Wednesday 21st February, our Year 5/6 Dodgeball team played in a tournament on Monday and made it through to the Milton Keynes finals which will be held in the next few weeks.
They played brilliant dodgeball, winning 5 out of 6 games. The teams they beat are as follows:Bradwell village; Long Meadow;Cold Harbour; The Webber School and Emerson Valley
Well done and we wish them all the best in the finals.
We have had a very successful week in sports. Maxwell, Gemma and Harry participated in the Bucks Schools Cross Country Championships on Wednesday 7th February. Harry and Gemma came 19th and 36th respectively which is fantastic considering the amount of children participating. Maxwell finished in an amazing 9th place which means he qualifies for nationals. Well done to all of them on a brilliant achievement.
Challenge Day at MK Springers